George's Department Store
Sadly, we have to report that George Salamy, 91, passed away on Sunday, March 30, 2014. George remembered us all, and was a great influence on all our lives, since 1946.
Fashions change but Anadarko retailer remains after 62 years
Published: December 12, 2010
ANADARKO
— When it was time for baby Delanie's first pair of "real" shoes, her grandfather knew where to take her:
George's Department
Store.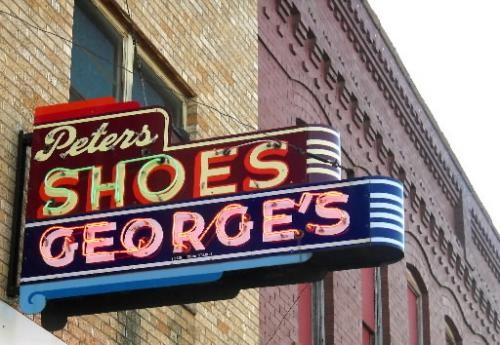 It's the same place he went for shoes when he was a boy. Same for his parents, and their parents, too. Actually, 10-month-old Delanie is the sixth generation in
Tracy Prather
's family who has been fitted for shoes by store owner
George Salamy
.
That's not the only feat Salamy, 88, has accomplished. His department store has survived more than six decades on a once-thriving, now near-desolate main street in this
Oklahoma
small town.
Prather, who grew up in Anadarko, said time seems to slow down on the way to
Caddo County
; George's Department Store exemplifies that feeling.
An old-fashioned neon sign hangs outside the store and inside, a 1950s push-button cash register 'cha-chings' with each purchase.
But the back-in-the-day feel has more to do with the way Salamy does business than the way the store looks. From an index card file, Salamy sifts through his store accounts — customers who purchased merchandise on unofficial, interest-free credit. He hand writes receipts and continues to offer layaway and free gift wrapping.
Buying shoes from Salamy is an experience, not a chore. He takes the time to measure customers' feet, then recommends a sneaker or work boot to fit the person and the foot.
He keeps a pulse on current trends and adjusts his inventory. Ladies hats, pantyhose, bell bottoms and red leather jackets have all given way to basketball shoes and
Nike
or
Adidas
athletic wear.
Staples
like
Red Wing
steel-toed boots and button-down dress shirts remain.
In the 1930s and '40s, George's Department Store was one of half a dozen retailers on the block of Broadway and First Street in Anadarko's downtown, said Phyllis Melton, who owns The Soda Fountain Eatery on the same block.
There also were drugstores, hardware stores, a bank, a diner and a tire store. "The block was full," Melton said.
Salamy enjoyed a lot of business in those days. On a typical Friday night in the '40s and '50s, he would have five or six clerks working to assist customers, mainly farmers who had come to town to socialize and buy groceries.
Melton and Salamy both said
Walmart
ran off most of the downtown businesses when it built an Anadarko store in the 1970s. It forever altered the retail landscape of the town.
A movement to revitalize Main Street was largely unsuccessful.
"It would be wonderful if downtown was full," Melton said. "The way it is now, I can't see it will change a whole lot. I would like to say differently."
Salamy, too, wishes there were more businesses on his block. But he doesn't worry about Walmart taking away his customers.
"They can't compete with me," he said. "We give service. We know our customers by name."
Customer
Rochelle Tahbone
, who browsed the store on a recent Friday afternoon, said her grandfather used to trade with Salamy and raved about the quality of the items he got there.
"It's that old-fashioned, Ma and Pa store that you always want to go back to," Tahbone said.
Salamy has no plans to retire but his children have made career paths away from retail. His daughter is a schoolteacher and his son is a physician. So when he's gone, the store will likely be gone, too.
When asked if the store was making him rich, Salamy smiled and instead talked about helping people in need get a winter coat, a suit for a wedding or a much-wanted Christmas gift.
"There's happiness here, meeting people," he said. A type of richness, indeed.